Happy Monday!!! It's not a huge early birds list today but there are still a few that sound awesome! K. Webster and Penny Reid (just to name a few) and I'll be on the lookout for more… 😉
It's time for three things:
1.) Lookit the site!! It's officially on the new server with a few layout tweaks here and there, and it's running smoothly! YAY!! I'm not great with change but this feels good to me.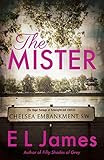 2.) I finished "The Girl He Used to Know " this weekend and it blew me away. It came with quite the twist that had me gasping and I 5-STAR LOVED IT!!!! Review will be going up shortly. P.S. Amy… you're gonna love it!
3.) E.L. JAMES FANS!!! Look what's going live at midnight!!! The Mister ➔➔➔➔
Oh and…
➔➔➔ Kindle Unlimited Membership super-bargain deal!!!! 

 <— Hey guess what??!! The Kindle Unlimited Membership deal is still on!!!
LOOK WHAT JUST WENT LIVE 
 !!!
TIME: Laws of Physics 3 by Penny Reid <— PENNY REID TRILOGY CONCLUSION ALERT!!! These must be read in order.
Blood Bonds (Otherworld Book 21) by Yasmine Galenorn
Travis (Grim Sinners MC Book 3) by LeAnn Ashers
Gluttony (The Elite Seven Book 5) by K. Webster <— K. WEBSTER ALERT!! "…The Elite Seven have their initiations. My task is personal and beneath me—steal a car and send a warning. It'll hurt my best friend in the process, but we both made a pact going into this. There's no line we won't cross.My task makes an ugly turn and I nearly take a life. Such a small, unimportant person. Someone no one would even notice if she were gone. She's a problem my money, and now power, can easily sweep under the rug..."
Wrong Way Home: Taken (Criminal Delights Book 1) by K.A. Merikan <— M/M ROMANCE!!
Protect: A Dark Captive Romance

by

Olivia Ryann

and

Vivian Wood
Red Hot Rancher (Part-Time Cowboy Book 2) by Marie Johnston <— THE FIREMAN-COWBOY ON THE OTHER SIDE OF HER WALL… "…After a streak of bad decisions, Brigit has to slink back home to nurse her wounds and find a job. To complete her humiliation, there's no way she can avoid the first love she walked away from years ago—because he's sleeping on the other side of her wall..."
The Red Siren of the Wood: A Fairy Twisted Tale by Dixie Painter
Succubus Hunted (The (un)Lucky Succubus Book 4) by L.L. Frost
Cold-Hearted Rake: The Ravenels, Book 1 by Lisa Kleypas <— LISA KLEYPAS ALERT!! NOT NEW BUT A SUPER-BARGAIN!!
Sixty Days for Love by Liza Malloy <— HER HUSBAND IS DIVORCING HER…  "…Chelsea decides to transform herself into a woman David can't resist. Revamping her life isn't easy, though, and Chelsea lands in one embarrassing predicament after another. Luckily, Nick, a smoldering local cop, happily rushes to her rescue…"
Where There's A Will by Julie Archer
Rough and Ready (Outlaw Warriors Book 2) by Cathleen Ross
DON'T LIE TO ME (Eva Rae Thomas Mystery Book 1) by Willow Rose
The Enchanter's Soul: The Ellwood Chronicles II

by

Michele Notaro
Rhythm of Rime (The Fate Caller Series Book 2)

by

Zoe Parker
Promise Me by Samanthe Beck & Robin Bielman <— HER HOT NEIGHBOR ALERT!! "...Instead of soaking up the SoCal sunshine while housesitting for my aunt, I'm dealing with a Pomeranian who thinks she's a Pitbull, two half-sisters who would happily prune me off the family tree, and him. Vaughn Shaughnessy. Hot model about to go nuclear, dangerously sexy flirt whose perceptive green eyes promise he's more than just a pretty face…"
PREORDERS (going live at midnight!!!  
 )
➔➔➔  Get Maryse's Book Blog updates delivered by email (you'll get one daily email that will have each post from that day consolidated on it).