Good morning, happy Tuesday and lookit what just went LIVE!!! 😀 A few give me an extra hard blurb-jolt!! P.S. Keep checking back, 'cause I'll be adding more throughout the day as we find 'em.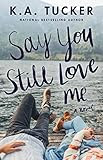 Blurb Jolts? I got 'em! Like that one to the left (Karina Halle's latest!! Discretion – she's a down on her luck student, and he's the Billionaire – and most eligible bachelor that saves her!!), The Right Swipe (the ex-pro football player that ghosted her…), One Year Home (YES!!!!! Navy Seal that has so much media attention because os his heroism, but is depressed because his love left him for another… and then she sends her new boyfriend's sister to help him!!), I'd Rather Not (YES YES!!! A stranger needs a kidney…"and Pace finds a spark in his soul for the first time since a bomb went off beside him. He's already missing two legs. What's one more kidney?" and then he loses his heart to her, too!!) and Say You Still Love Me (KA Tucker!! Need I say more? I LOVE her!!)
While you're here, don't forget to check out these:
AUDIOBOOK L
VERS!
For those going on a road trip soon, or maybe you've got some projects that require both hands this weekend but still allows you to "listen"… check out the free audible trial + 2 free audiobooks deal
AND! Here's the fun-tool again! —> Find out which of YOUR Kindle books are available as audiobooks at a BARGAIN-PRICE! <— This thing is so cool (Amazon calls it "Matchmaker")! It's an Amazon feature, that scans all of your Kindle books and will list all of the ones you have that are also available as an audiobook at a discounted price (not normal audiobook prices). This way, you can switch back and forth, seamlessly between your ebooks and your audiobooks. VERY COOL!
➔➔ Audible now has a "Romance" package membership (30 day free trial)– this one is SO cool, and worth it (unlimited listening for all of the audiobooks in the program, and there are tons)!!
➔➔ Prime members Audible for 3 months at a super-deal!!!
and…
White Knight by Meghan March
Outfox by Sandra Brown
The Forgettable Miss French: Shadowvale, Book 3 by Kristen Painter
The Husband Gambit by L.A. Witt
Reticence by Gail Carriger
Never Have I Ever by Lauren Blakely
Brave the Tempest: Cassandra Palmer Series, Book 9 by Karen Chance
Execution Style: Code 11-KPD SWAT, Book 4 by Lani Lynn Vale
Hidden: An MM Mpreg Romance: Team A.L.P.H.A., Book 6 by Susi Hawke
Pretty Thing: Naughty Things, Book 1 by J.A. Huss
and… preorders:
Blood Truth by J.R. Ward
READER RECOMMENDATIONS & BARGAIN FINDS:
➔➔ Prime members that have not joined Kindle Unlimited yet can get a KU membership for 3 MONTHS at a bargain!!!
Linda: I read Diamond Girl when it was first recommended on your wonderful book blog Maryse. LOVED the story and the characters…Slate…yum. So I jumped on Love Plus One as soon as it was released. DID NOT disappoint. Loved it equally. Type of stories and characters that stay with you long after reading. Slate and Taz swooooon worthy;)
God-Shaped Hole: A Novel by Tiffanie DeBartolo <— GASP!!!!! TIFFANY DEBARTOLO ALERT!! One of my ultimate favorite angsty books (FIVE STARS!!) is on super-sale today!! P.S. Here's my review.
Rebecca: This book is a masterpiece. It will tear you up, knit you together, and make you bawl like baby. So, so good.

Renee: Thank you! I've been wanting to read this.

Nadia: I've been waiting for this book to go on sale for forever ❤️

Suanne: I'm still not speaking to this book.

Maryse: I love it!! A character in this one makes a cameo in How to Kill a Rockstar. 😉 I LOVE that tie-in.

Crystal: And while your at it read how to kill a rockstar too. It's been so many years and it's still my top 10. The first time I yelled at my kindle ♥️ haha
PARANORMAL/FANTASY/SCI-FI/DYSTOPIAN NEW RELEASES:
Brave the Tempest (Cassie Palmer Book 9) by Karen Chance
Control of Five: A Reverse Harem Series (Origins of the Six Series Book 2)

by

A.K. Koonce

and

Aleera Anaya Ceres
Enchanted Ever After (Enchanted, Inc. Book 9)

by

Shanna Swendson
Crown of Blood: Book of Sindal (Book Sindal 3)

by

D.G. Swank &

 

Alessandra Thomas

Forbidden Alliance (The Forbidden Series Book 4)

by

Diana Cosby
House of Salt and Sorrows by Erin A. Craig
Vow of Thieves (Dance of Thieves Book 2) by Mary E. Pearson
Dark Alpha's Redemption: A Reaper Novel (Reapers Book 8)

by

Donna Grant
Reticence (Custard Protocol Book 4)

by

Gail Carriger
CONTEMPORARY NEW RELEASES:
Discretion (The Dumonts Book 1) by Karina Halle <— KARINA HALLE ALERT!! SHE'S A DOWN-ON-HER-LUCK STUDENt & HE SAVES HER… "…The Riviera means indulgence—if you've got money. For Sadie Reynolds, a down-on-her-luck student, the Riviera means dingy hostels and back streets. When a wrong turn puts her in jeopardy, the last thing she expects is to be saved by the most handsome stranger she's ever locked eyes with. When she later wakes up in a luxury suite with a Mediterranean view, she's in the tender care of her rescuer: Olivier Dumont, France's most eligible bachelor…"
Sweet Melody: A Seabrook Romance

by

Heidi McCahan
The Bistro by Watersmeet Bridge

by

Julie Stock
Her Montana Cowboy (Montana Skies Book 1)

by

Ivy James
Outfox by Sandra Brown
The Right Swipe: A Novel by Alisha Rai <— HE GHOSTED HER!!! "…there aren't any rules to govern her attraction to her newest match, former pro-football player Samson Lima. The sexy and seemingly sweet hunk woos her one magical night… and disappears. Rhi thought she'd buried her hurt over Samson ghosting her, until he suddenly surfaces months later, still big, still beautiful—and in league with a business rival..."
Billionaire Unattainable ~ Mason: A Billionaire's Obsession Novel (The Billionaire's Obsession Book 14)

by

J. S. Scott
SEAL Undercover (Silver SEALs Book 10)

by

Desiree Holt
Dare Me Tonight (The Knight Brothers Book 4)

by

Carly Phillips
The Lie (Kings of Linwood Academy Book 2)

by

Callie Rose
One Year Home

by

Marie Force <— OH I LOVE THE SOUND OF THIS!!! HER BROTHER TOOK THE LOVE OF HIS LIFE... "…I have no idea how to survive without my beloved Ava. She had no choice but to move on with her life during my six-year deployment and has now married Eric. I hate him for taking her from me. I'd prefer to wallow in my depression and heartbreak, but the whole damned world wants a piece of the SEAL Team leader who helped capture the world's most-wanted terrorist. I need help handling the relentless requests, and when Ava sends her new sister-in-law to manage the media circus for me, I'm prepared to hate her on principle. Her brother took my Ava…"
Battle Scars (The Arsenal Book 5)

by

Cara Cranes
Charlotte's Landing (The Sylvan Hills Series Book 2)

by

Alexis Lynne
Sonata by Skye Warren <— SKYE WARREN TRILOGY CONCLUSION ALERT!! "...SONATA is the third and final book in the explosive trilogy with Samantha Brooks and Liam North. It should be read after OVERTURE and CONCERTO…"
Love on Fire (Stars Book 2)

by

E. L. Todd
Vow of Justice (Blue Justice Book #4)

by

Lynette Eason
A Song of Joy (Under Northern Skies Book #4)

by

Lauraine Snelling
Ray: Riding Hard

by

Jennifer Ashley
Sexy Liar: A Dirty Little Secrets Duet (Dirty Hacker Book 1)

by

Stacey Kennedy
Tequila and Tigers: Bad Alpha Dads (Shifters and Sins Book 2)

by

Cecilia Lane
I'd Rather Not (KPD Motorcycle Patrol Book 3) by Lani Lynn Vale <— LANI LYNN VALE ALERT!! OMG THIS SOUNDS AWWWWESSOMMMMME!!! She's dying because of an infection that damaged her kidneys, and her dad goes to social media to try and find a donor… "…Pace Vineyard is lost. So lost, in fact, that he's not sure he wants to be found. But then a beautiful woman's face is splashed across social media, and Pace finds a spark in his soul for the first time since a bomb went off beside him. He's already missing two legs. What's one more kidney? At least, that's what he tells himself. What he doesn't expect is to give his heart to the woman, too. Or for the woman to run away with it and force him to follow..."
The Killing Tide (Coastal Guardians Book #1) by Dani Pettrey
Say You Still Love Me: A Novel by K.A. Tucker <— K.A. TUCKER ALERT!! HER SCHOOLGIRL CRUSH IS THE SECURITY GUARD WHERE SHE WORKS... "…she's considered a pair of sexy legs in a male-dominated world and constantly has to prove her worth. Plus she's stuck seeing her narcissistic ex-fiancé—a fellow VP—on the other side of her glass office wall every day. Things get exponentially more complicated for Piper when she runs into Kyle Miller—the handsome new security guard at Calloway Group, and coincidentally the first love of her life..."
Billionaire Unattainable ~ Mason: A Billionaire's Obsession Novel (The Billionaire's Obsession Book 14) by J.S. Scott
The Perfect Wife: A Novel by JP Delaney
The Turn of the Key by Ruth Ware
Her Cowboy Billionaire Best Man: A Whittaker Family Novel (Christmas in Coral Canyon Book 8)

by

Liz Isaacson
Wait For Me (Swoon Series Book 2)

by

J.H. Croix
Wicked Angel (Wicked Horse Vegas Book 6) by Sawyer Bennett <— SAWYER BENNETT ALERT!! HE'S GRIEVING… "…After months of paralyzing emptiness, I turn to The Wicked Horse so I can feel something. Anything, really. Any shred of emotion that will explain why I'm still here. Any justification for why my life was spared and theirs were not. It's all in vain. Not even the debauchery of the notorious sex club can fill the hollowness that consumes me. Until she walks in…"
Heart Unbroken (Hearts Entwined Book 4) by Andrew Grey <— M/M ROMANCE ALERT!!
Dead on His Feet (Cold Case Psychic Book 12) by Pandora Pine <— M/M ROMANCE ALERT!!
Digging Deep by

by

Jay Hogan <— M/M ROMANCE ALERT!!
Forbidden Kiss (Carson Cove Scandals)

by

Kelli Callahan
Fire Storm (Kaely Quinn Profiler Book #2)

by

Nancy Mehl
Fireball (Cheap Thrills Series Book 1)

by

Mary B. Moore <— THE COP & SHE'S NEW IN TOWN… "…I never expected to find when I arrived was my sister catching her husband cheating on her, and then getting arrested for no reason by the Sheriff, Dave Bell. I was a sucker for tattoos, I was also a sucker for a tall man built like a wall.  And apparently I was a sucker for a guy with a badge.."
Then I Met You

by

Matt Dunn
Dancing with the Mob: A Dark Mafia Romance Two-Book Collection

by

Suzanne Hart

and

M. S. Reed

Sin & Tonic <— ANTHOLOGY ALERT!! "Bar, pub, speakeasy, tavern, cocktail lounge. What do all these have in common? They're places for drinking, places for talking, places for meeting, and in this anthology, they're places to fall in love. Pull up a seat, grab a drink, and enter the worlds of five romance authors for some steamy heroes, strong heroines, and sexy-as-hell sin. Cocktail recipes to seduce your sweetie included!"
Kiss Me Again: A Second Chance Military Romance

by

Vivian Wood
All Of Us (All Series Book 7)

by

Natalie Ann
Life and Other Inconveniences by Kristan Higgins <— HER GRANDMOTHER KICKED HER OUT WHEN SHE GOT PREGNANT… "…When Emma's own mother died, her father abandoned her on his mother's doorstep. Genevieve took Emma in and reluctantly raised her–until Emma got pregnant her senior year of high school. Genevieve kicked her out with nothing but the clothes on her back…but Emma took with her the most important London possession: the strength not just to survive but to thrive. And indeed, Emma has built a wonderful life for herself and her teenage daughter, Riley.  So what is Emma to do when Genevieve does the one thing Emma never expected of her and, after not speaking to her for nearly two decades, calls and asks for help?…"
How to Hunt A Husband by

 

Holly Jacobs
Love at First Like: A Novel

by

Hannah Orenstein <— SHE NEEDS A FAKE FIANCE ALERT!! "…One night, after learning of an ex's engagement, Eliza accidentally posts a photo of herself wearing a diamond ring on that finger to her Instagram account beloved by 100,000 followers. Sales skyrocket, press rolls in, and Eliza learns that her personal life is good for business. So she has a choice: continue the ruse or clear up the misunderstanding. With mounting financial pressure, Eliza sets off to find a fake fiancé..."
Someday Jennifer: A Novel

by

Risto Pakarinen
Ellie and the Harpmaker

by

Hazel Prior
PREORDERS (going live soon!!! 😀 )
➔➔➔  Get Maryse's Book Blog updates delivered by email (you'll get one daily email that will have each post from that day consolidated on it).