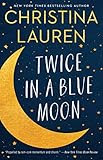 It's another Tuesday NEW RELEASE DAY and it's kinda HUGE one!! 80+ NEW RELEASES!!! And I'm still adding to it. 🙂
Blurb jolts!!! I got 'em. Like that one to the left – Twice in a Blue Moon (he betrayed her secret and now she has to work with him), Perfect Strangers (in the reader recommendations section 'cause HOLY MOLY they're going nuts for this one and it's going to be my next read!!), Kiss Me Again (she can't stand her new roommate and she's secretly in love with him), Before You (HUGE BLURB JOLT!! They met on a plane and she fell hard for him… and then she discovered his secret and it BROKE her!! OMG I already have an idea of the secret from that blurb). GASP!!!, Happy Trail (he rescues her and then they're snowed in, in an abandoned cabin!!), and Tempt The Hookup (sees her, years later after a one night stand… and their son!!)
While you're here, if you missed these, check out:
Michele G: I've been really lucky with my reads lately because I also read Wanderlove by Rachel Blaufeld and really loved it too – 4 1/2 stars! It was the first of her books that I've read and I don't know why. She has some great looking books out there…so I'll be reading more by her soon.

In the meantime, I really thoroughly enjoyed Wanderlove. Two broken souls meant to be together (at least that's my interpretation)…their story crawled right into my heart and took residence.
AUDIOBOOK L
VERS!
For those going on a road trip soon, or maybe you've got some projects that require both hands this weekend but still allows you to "listen"… check out the free audible trial + 2 free audiobooks deal
AND! Here's the fun-tool again! —> Find out which of YOUR Kindle books are available as audiobooks at a BARGAIN-PRICE! <— This thing is so cool (Amazon calls it "Matchmaker")! It's an Amazon feature, that scans all of your Kindle books and will list all of the ones you have that are also available as an audiobook at a discounted price (not normal audiobook prices). This way, you can switch back and forth, seamlessly between your ebooks and your audiobooks. VERY COOL!
➔➔ Audible now has a "Romance" package membership (30 day free trial)– this one is SO cool, and worth it (unlimited listening for all of the audiobooks in the program, and there are tons)!!
and…
Half Truths: Secret Society, Book 1 by Claire Contreras
Famous by Marie Force
Whisper of Bones: Widow's Island Novella, Book 3 by Melinda Leigh
Heartsong: Green Creek Series, Book 3 by TJ Klune
Twice in a Blue Moon by Christina Lauren
Nothing Special V: Nothing Special Series, Book 5 by A. E. Via
Master Baker by Pippa Grant
Dirty Like Seth: A Dirty Rockstar Romance (Dirty, Book 3) by Jaine Diamond
The Christmas Spirits on Tradd Street: Tradd Street, Book 6 by Karen White
Rock Bottom Girl: A Small Town Romantic Comedy by Lucy Score
Before You by Marni Mann
READER RECOMMENDATIONS & BARGAIN FINDS:
➔➔➔➔ HEAR YE HEAR YE!!!! For those asking about a new KINDLE UNLIMITED DEAL, I found out there IS ONE!!! And you can get in on it until October 31st!!!
And…
Perfect Strangers by J.T. Geissinger <— SUMMER SAYS "5 WTF STARS"!!!! I keep hearing how amazing this one is, and Summer convinced me!!!
Summer: OMG what did I just read? This book was amazing! What a wild ride! 5 WTF stars from me. Everyone should read this book!!

Donna: One of the BEST books that I've read all year! I can't stop thinking about it!

Maryse: OH MY!!!!!!!!! Yep. I'm thinking this is next!!! 😀

Val: I finished this last week!!!!! I agree. It's fantastic. I can't move on. Read it now!
PARANORMAL/FANTASY/SCI-FI/DYSTOPIAN NEW RELEASES:
The Domina (Ascension Book 5) by K.A. Linde <— K.A. LINDE FANTASY ROMANCE SERIES CONCLUSION ALERT!! "…The fate of the world rests on one girl's shoulders. And her world has been turned upside down..."
Blood Night: A Krewe of Hunters Novella by Heather Graham
Rampion: Cosmic Fairy Tales

by

Susan Trombley
The Hunchback: Cosmic Fairy Tales

by

Regine Abel
The Ugly Dukeling: Cosmic Fairy Tales

by

Bex McLynn
The Frog Prince: Cosmic Fairy Tales

by

Tracy Lauren
When the Starrs Align: (A paranormal menage romance novella)

by

Marie Harte
Heartsong (Green Creek Book 3) by TJ Klune <— M/M SHIFTER ROMANCE ALERT!! This series is MUCH loved amongst our book crew here!! "...Life as the trusted second to Michelle Hughes—the Alpha of all—and the cherished friend of a gentle old witch teaches Robbie what it means to be pack, to have a home. But when a mission from Michelle sends Robbie into the field, he finds himself questioning where he belongs and everything he's been told…"
Contaminated: Cosmic Fairy Tales

by

Amanda Milo
The Captain's Dragon (Dragon Knights Book 15) by Bianca D'Arc
Escaping Wonderland: Cosmic Fairy Tales by Tiffany Roberts
Protected in Darkness (Misplaced Halos Book 1) by Nicole Edwards <— THEY'RE HERE TO PROTECT HUMANITY & HUMANS DON'T KNOW THEY EXIST "…Penelope Calazans spends her days sleeping and her nights serving free drinks to the gamblers looking to win big in Sin City. It's not a glamorous life, perhaps a tad lonely, but she's content. Or she thought she was. Then he appears. The mystery man who would turn out not to be a man at all, but rather an angel. The angel who would turn Penelope's mundane life upside down, revealing what really lurks in the dark..."
The Lion and the Mouse: Cosmic Fairy Tales

by

Emmy Chandler
Psychic Secret: An Urban Fantasy Academy Romance (Psychic Academy Book 1)

by

Samantha Bell <— SHE JUST FOUND OUT SHE HAS POWERS… "...Apparently, I have psychic powers and I am very bad at controlling them. After two run-ins with dangerous villains that scare my destructive powers right out of me, I get brought to the Psychic Training Academy – a government run facility meant to help people like me become "useful".  Now I'm caught between my old normal life and my new crazy one..."
Jackie and the Giant: Cosmic Fairy Tales by Honey Phillips
Manhattan Dragon (The Treasure of Paragon Book 3)

by

Genevieve Jack
Forest Charmed (Southern Elemental Guardians Book 5)

by

D.B. Sieders <— SHE NEEDS A MONSTER "…Beverly doesn't trust Jack, but she needs him. Jack doesn't trust his monster, but he can't get rid of it. Now Beverly must heal the man and unleash the monster if she has any chance of saving the earth's most precious resource—without letting their attraction get in the way..."
Kill Me Once, Kill Me Twice

by

Clara Kensie
Sealer's Game (The Sealer Saga Book 1)

by

Kathy Coleman
Vampire Bait by Olivia T. Turner
CONTEMPORARY NEW RELEASES:
Twice in a Blue Moon by Christina Lauren <— THE LOVE OF HER LIFE BETRAYED HER SECRET… "…Fourteen years later, Tate, now an up-and-coming actress, only thinks about her first love every once in a blue moon. When she steps onto the set of her first big break, he's the last person she expects to see. Yet here Sam is, the same charming, confident man she knew, but even more alluring than she remembered. Forced to confront the man who betrayed her, Tate must ask herself if it's possible to do the wrong thing for the right reason… and whether "once in a lifetime" can come around twice..."
Michelle G: I finished Christina Lauren's Twice in a Blue Moon over the weekend. I think reviews have been all over the place, but I really enjoyed it. It was a 4 1/2 star read for me! It's another one where I highly recommend you go into it knowing as little as possible. It really will make the story so much more enjoyable
Bishop's Queen (Endgame trilogy Book 2) by Katie Reus
Broken Hope: A Dark Mafia Romance (Volkov Bratva)

by

Nicole Fox <— THEY KIDNAPPED HIS WIFE & BABY!! "...I tried to keep her safe. Locked away like a princess in a tower. Up there, she was protected from everything… Except for me. Now, I'm knee-deep in the underworld. I'll do whatever it takes to rescue my family…"
London Royal (London Royal Duet Book 1) by Nana Malone
Kiss Me Again by Emma Hart <— EMMA HART COMEDY ROMANCE ALERT!! SHE'S SECRETLY IN LOVE WITH HER NEW ROOMMATE (her brother's best friend!!) "…One thing I know for sure is this: I absolutely do not want Ethan Hawkins in my apartment, up in my business, taking over my space. Yet he's here. Moving his stuff into my spare bedroom. Sending a wave of panty-melting, musky man-scent my way every time he walks past me. Here's the thing. We don't get along—at all…."
Dirty Little Secret: A Steamy Forbidden Romance

by

Vivian Wood

Christmas with the Firefighter (Cape Hope Book 1)

by

Clare Connelly <— SINGLE FATHER FIREFIGHTER ALERT! "…before Ally knows it, she's falling hard and fast in love with the whole town and its old-fashioned, charming ways – and particularly local single-dad Luke Miller and his adorable daughter Stella…"
My Stepbrother, The Player

by

Ashley Sands
Memories Under the Mistletoe

by

Dawn McClure
That Divorce: (Danny's Duet Book 1) (That Boy 4) by Jillian Dodd <— THAT BOY SERIES ALERT!!! LOOKIT WHAT JUST WENT LIVE!!! The football star and the famous actress starting over again.. "…Years ago, Danny and Jennifer met at a party, and their chemistry was off the charts. After a few months of being just friends, he did the right thing–cut off all contact with her to focus on his family. It was the right decision at the time. But they've never forgotten each other. Or the special connection they felt. And, when Danny's next-door neighbor offers Jennifer a place to hide out from the paparazzi, they meet … again…"
Dukes, Actually (12 Dukes of Christmas Book 5)

by

Erica Ridley
Maybe This Christmas: A Small Town Second-Chance Holiday Romance

by

Susannah Nix
Back to You (Starlight Valley Book 2)

by

Hunter J. Keane
Before You by Marni Mann <— MARNI MANN ALERT!! THEY MET ON A PLANE & NOW SHE'S BROKEN… "…It was supposed to be a typical work trip. New York to San Francisco, window seat, exit row. Maybe a mimosa. Then, seat 14B sat down. When our eyes met, the flight became anything but routine. I could pinpoint the moments in my life where everything changed forever. Meeting Jared on that flight was first. Falling in love with him was second. Discovering the secrets he kept was third. Putting my broken self back together and forgetting what I learned would be difficult. Forgiving Jared would be impossible…"
Suga Hill: A Love Jones Kinda Tale

by

Tamika Newhouse

Healing Hearts (Quinn Valley Ranch Book 27) by Kay P. Dawson
Girl in Luv (In Luv Duet Book 1) by Jay Crownover & Rebecca Yarros <— HER EX IS MARRYING HER STEP-SISTER… and she needs a fake relationship ASAP!! "…She needs to find a date who's not afraid of her family's money…someone willing to shake things up. She needs someone outside of her normal social circle, someone ready to go to war with the well-to-do. She needs someone who won't back down. Someone willing to play the complicated game of tug-of-war she's been engaged in with her family for years. Never in a million years did she think she was going to stumble across her very own heroic heartthrob when she set her crazy plan in motion…"
Shelter for Penelope (Badge of Honor: Texas Heroes Book 15) by Susan Stoker <— FIREFIGHTERS & SHE WAS HELD CAPTIVE!! "…It took seeing Penelope in the hands of terrorists—in viral videos seen around the world—for Tucker "Moose" Jacobs to realize just how much he loved his fellow firefighter. He died waiting for her rescue, then died all over again when Penelope abruptly left Texas, trying to outrun her past. Now that she's returned, the kid gloves are off..."
Yuletide Wishes: A Regency Novella Duet

by

Christi Caldwell

and

Grace Burrowes
A Convenient Fiction (Parish Orphans of Devon Book 3)

by

Mimi Matthews
The Bookseller and the Earl (The Merry Misfits of Bath Book 1)

by

Callie Hutton
Famous by Marie Force <— MARIE FORCE ALERT!!! CELEBRITY HAS A DARK SIDE... this is the conclusion to the series but I think the majority of them can be read as standalones. 😀
Hawk (Reapers MC Book 6)

by

Elizabeth Knox
Goodwill for the Gentleman (Belles of Christmas Book 2)

by

Martha Keyes
Every Kiss You Steal (Redeeming Love Book 7)

by

J.E. Parker
Snow White & The Biker

by

Glenna Maynard
Meant to Be Yours (Happily Inc Book 5) by Susan Mallery <— SUSAN MALLERY JUST A FLING… "…she never could have planned on gorgeous, talented thriller writer Jasper Dembenski proposing—a fling, that is. Fun without a future. And the attraction between them is too strong for Renee to resist. Now she can have her no-wedding cake…and eat it, too…"
Beautifully Broken Spirit (The Sutter Lake Series Book 3) by Catherine Cowles <— HIS BEST FRIEND'S LITTLE SISTER ALERT!! "…He's always been her protector. Tuck has looked out for Jensen since the day she was born. As his best friend's little sister, he's tried to keep her firmly in the friend category. But she's always been more. All it takes is one moment of weakness to send Tuck's fiercely guarded walls crumbling to the ground..."
Lasting Shadows: Shadows Landing #3 by Kathleen Brooks
The Christmas Dare: A Twilight, Texas Novel by Lori Wilde
Whisper of Bones (Widow's Island Novella Book 3) by Melinda Leigh <— A BODY WASHES UP ON SHORE… "...The victim is a local contractor with a shockingly long list of enemies. The more locals Tessa interviews, the more people she suspects—from the bitter ex-wife and estranged current wife to disgruntled former clients and employees. They all have different reasons to want him dead..."
Moonlighter by Sarina Bowen <— SARINA BOWEN ALERT!! He's at the height of his athletic career but his brother has other ideas… "…the jerk ambushes me with a damsel in distress. That damsel is Alex, the competitive, sassy girl I knew when we were kids. Now she's a drop-dead gorgeous woman in deep trouble. So guess who's on a flight to Hawaii? It's going to be a long week in paradise..."
Kissing Books

by

Cat Johnson
A Touch of Dark (Painted Sin Book 1) by Lana Sky <— LANA SKY ALERT!! THIS IS NO FAIRY TALE... "…Haunted by a monster from her childhood, the sheltered socialite is slowly losing her mind—while a mysterious stranger seems to lurk around every corner, relishing in her demise…"
Delicious Deception (Tough Love Book 3)

by

Tami Lund
Tried and Tested: Heart of Crystal: Book Two

by

Obelia Akanke
Breathless With Her (Less Than Book 1) by Carrie Ann Ryan <— CARRIE ANN RYAN ALERT! SHE'S WHAT HE NEEDS… "…Devin Carr likes his life. He likes his job, his family, the outlook for his future. Then he meets her. Erin. As soon as he sees her, drunk and wearing a sequined dress as her world crashes down around her and she fights to put on a brave face, he knows what he's been missing. Her..."
Love Kills (Lilah Love Book 4) by Lisa Renee Jones <— LISA RENEE JONES DUET CONCLUSION ALERT!!
The Kissing Bet (Canyon Beach Romance Book 2)

by

Jaimie Case
Montana Christmas Bride

by

Stella Clark
Happy Trail (Park Ranger Book 1) by Daisy Prescott <— DAISY PRESCOTT ALERT!! HE RESCUES HER & THEY ARE FORCED TO SHARE AN ABANDONED CABIN!! "…After getting dumped and promptly abandoned in the middle of her multi-month hike, Olive swears off men. Determined to finish the long trek by herself, she doesn't need a prince—or broody and taciturn ranger—to save her. Yet, when an early snowstorm threatens the mountains, and Ranger Daniels is charged with getting hikers to safety, that includes hot-tempered Olive Perry…"
Lap of Luxury (Love Don't Cost a Thing Book 2)

by

Brianna Hale
Rogue Prince (The Rourkes, Book 7)

by

Kylie Gilmore
River in Darkness (River's End Series Book 11)

by

Leanne Davis
Love in Due Time (Green Valley Library Book 1)  by L.B. Dunbar <— THE BIKER & THE LIBRARIAN ALERT!! "…Naomi Winters will be forty—soon-ish—and she's only been with one man. One night. One time. Long ago. She believes everything happens for a reason, and the universe spoke about Nathan Ryder. Nathan Ryder isn't the same man who hightailed his bike out of Green Valley eighteen years ago. As a rule breaker, women are one area he acts a fool. Case in point…the local librarian. He can't get a read on her, but she's one risk he's willing to take. Again…"
Summer Heat (Wildflowers Book 2)

by

Jill Sanders
Nowhere Left to Hide (The Royal Trilogy Book 3)

by

Kat Mizera
Tempt The Hookup (Tempt Series Book 3) by Natasha Madison <— HE SEES HIS ONE NIGHT STAND YEARS LATER… AND THEIR SON… "...Attending a welcome back party for my boss's daughter wasn't how I wanted to spend my Sunday. But walking in and seeing my hookup from a cruise six years ago knocks me on my ass. It was a weekend of fun and now I'm seeing a pair of eyes, identical to mine, staring right at me. The boy standing next to her is my son. Now we're living next door to each other and attempting to co-parent something that would be easy to do if the pull that brought us together wasn't still there making things more complicated..."
Bleed For Her (Steele Raiders MC)

by

RB Hilliard
Forbidden Noble (Princes of Avce Book 11)

by

Victoria Pinder
Unforgettable (Indulgence) by Aleatha Romig <— ALEATHA ROMIG ALERT!! And it can be read as a standalone "…Working for a therapist who specializes in exploring hidden desires sounds like a dream job. It is if hearing other people's fantasies and discoveries is your cup of tea. The problem is that I'm tired of hearing about them. I want more. I want to experience them…"
Indebted Heart

by

Measha Stone
Shifting Gears (Satan's Knights Prospect Trilogy Book 1)

by

 Janine Infante Bosco
Back to his Lordship: Clean time travel regency romance (Twickenham Regency Romance Book 2)

by

Jen Geigle Johnson
Redemption: A Surprise Pregnancy Romance b

y

Dr. Rebecca Sharp <— SHE SHOWS UP AT HIS DOOR, PREGNANT!! "…After months building a new future, I thought my past had stayed put. Until I opened my front door to find she'd followed me. Taylor Hastings. My sister's best friend. And the good girl I'd never been good enough for. Not then. Not now. Not ever. One glance at Taylor's face told me she'd come searching for a safe haven. One glance at the swell of her stomach told me she hadn't come alone…" P.S. This was the answer to a recent reader question here!! 😀
Heated Manipulations (Kings Of Fort Greene Book 1)

by

Aiden Bates <— M/M ROMANCE ALERT!! "Harper is a born protector, but digging into Joshua's death while falling in love with Nick isn't safe or easy. Love or justice, truth or lies, Harper and Nick will need to wade through the manipulations, even as their hearts and lives hang in the balance."
Worship (On My Knees Duet Book 1) by Ella James <— FORBIDDEN M/M ROMANCE ALERT!! "...I've resisted this temptation my whole life. How did he make me surrender? My self-restraint is legendary. It's part of being a McDowell. For thirty years, I've followed in my father's footsteps, carried on my famous grandfather's tradition. I wield power and influence worth far more than flesh. I'll lose everything if I give in again…"
Traci: I read Worship (On My Knees Duet) by Ella James yesterday. If you love MM it's sooo good. One of my favorite books of the year. Part 2 comes out November 11th. it gave me all the feels.
PREORDERS (going live soon!!! 😀 )
➔➔➔  Get Maryse's Book Blog updates delivered by email (you'll get one daily email that will have each post from that day consolidated on it).